Προγράμματα
Προγράμματα
1. ERASMUS+ - "CASF - Culture Against School Failure"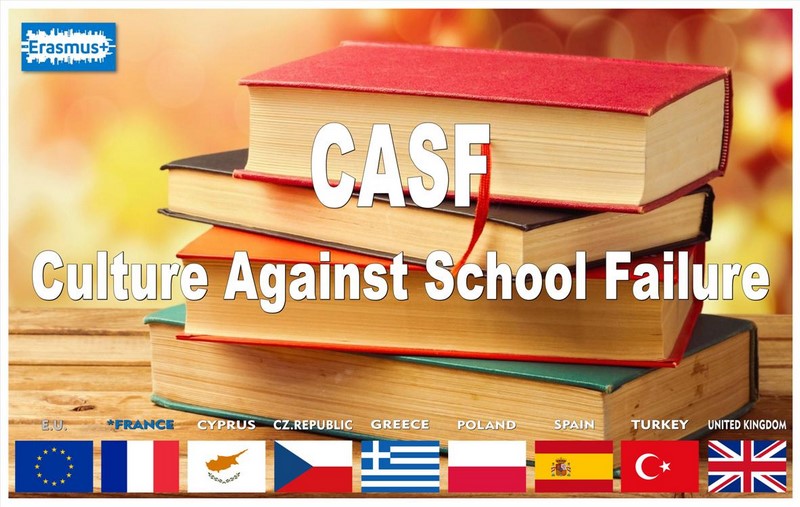 Participating Schools

1. NAREG Gymansium, Cyprus

2. COLLEGE GEORGES POMPIDOU, France

3. New College Durham Academies Trust, United Kingdom

4. 1st GYMNASIUM OF SITIA, Greece

5. Bakirkoy Cumhuriyet Ortaokulu, Turkey

6. Centros de Educacibn Integral S.L., Spain

7. Szkola Podstawowa nr 5 im.Mieszka I, Poland

8. Zakladni umelecka skola Vsetin, Czech Republic

Description of the Programme

The major goals of our project are:
• To enhance our learners' motivation and investment in their learning
o Allow them to develop their skills related to autonomy, learning method, ICT and oral communication in foreign languages,
o Thus raising their chances for a better professional inclusion in the future
• To offer our learners an opportunity to learn about other European cultures, and thus, broaden their intercultural competences and foster their European citizenship.
• To give our learners the opportunity to boost their self-esteem and self-confidence

Meetings

of the Programme

13– 19 November 2017

Coordinators First Meeting in Spain - 'First Transnational project meeting'

8- 12 January 2018

Meeting in United Kingdom – 'Five Day ICT workshop for Staff'

June 2018

Meeting in Greece – 'Second Transnational project meeting'

May 2019

Meeting in Poland – 'First twelve-day language camp'

June 2019

Meeting in Turkey – 'Third Transnational project meeting'

May 2020

Meeting in Czech Republic – 'Second twelve-day cultural language camp'

June 2020

Meeting in Cyprus – 'Fourth Transnational project meeting'
2. Newsletters Around the World
The Public link to our TwinSpace:
http://new-twinspace.etwinning.net/web/p102799
3.ERASMUS+ "A Peace Of Europe"
http://sites.google.com/site/peaceofeurope
https://www.facebook.com/groups/727453000669553/
Participating Schools

1. NAREG Gymansium, Cyprus

2. Vestre Skole, Denmark

3. Ysgol Gyfun Aberaeron, Wales

4. IES Príncipe de Asturias, Spain

5. Collège Jean Rostand, France

6. Saint Aidans Community School, Ireland

Description of the Programme

Our Erasmus+ programme is about to start. It is a multilateral project with six participant secondary schools from six different European countries: Vestre Skole from Denmark, Ysgol Gyfan Aberaeron from Wales, IES Príncipe de Asturias from Spain, Collège Jean Rostand from France, Saint Aidans Community School from Ireland and, of course, our school Nareg Secondary School, representing Cyprus and Armenia.

The project will run for three years and it will be fully incorporated in the students' school work.

Students will be required to work:

(a) individually,

(b) in collaboration with their school mates and

(c) with students from partner schools (via Skype).

All end products will be presented by the students themselves during their visits to the partner schools. All activities are interdisciplinary, cover multiple intelligences and offer students the opportunity to use their talents in creative ways. Students will be expected to use 2.0 ICT tools such as Prezi, Wordle, Google+, etc.

The whole project is organised into three thematic units - one for each year - which consist of a variety of class activities and project work, with the intent to help students explore issues relating to peace.

The sub-unit covered in the first year is entitled 'Individual Peace of Mind'. It aims to explore ways in which our inner peace affects our everyday relations with those around us, our community, our country and the world, in general.

The thematic unit for year two is entitled 'Peace in History and our Time'. Students will be expected to remain informed of issues of peace and war in the world today and gain insights to issues of peace and war in their own countries in the past.

The thematic unit for year three is entitled 'Peace Forever'. It aims to raise the students' awareness concerning their own rights as children, in times of peace and war, according to the UN chart for children's rights and help them develop a sense of responsibility towards peace as future global citizens.

Meetings

of the Programme

5 – 10 December 2014

Coordinators First Meeting in Cyprus

(transnational project meeting)

6 – 12 May 2015

Meeting in France – 'Individual Peace of Mind'

3 - 10 October 2015

Meeting in Wales – 'Peace in History and out Time'

22-28 May 2016

Meeting in Denmark – 'Peace for Ever'

2-8 April 2016

Meeting in Ireland

22-24 May 2017

Coordinators meeting in Spain